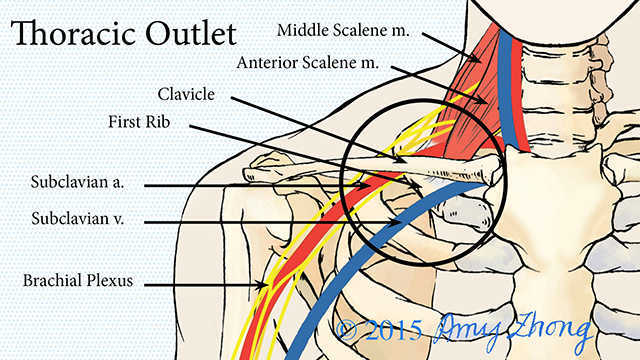 Thoracic Outlet Syndrome is a presentation in which the bundle of the nerves called the brachial plexus becomes compressed and leads to upper extremity pain or paresthesia caused by irritation to the structures involved. Above 95% of these injuries are caused by mechanical compression of the neurovascular bundle in presentation and therefore can be treated conservatively. Common symptoms include
Hand pain and forearm pain
Motor weakness such as decreased grip strength
Numbness in the hands
Tingling or pins and needles in the hands and fingers
One of the most important things to determine is if your symptoms are actually TOS or if there is another cause for your symptoms. Other potential diagnoses can include cervical disc issues with radiation, cervical spine stenosis, or carpal tunnel. This is why a proper exam is important prior to starting any treatment.
Assessment of a patient with TOS-like symptoms includes performing a few orthopedic tests to determine the potential source of compression of the neurovascular bundle. The main areas include the Anterior Scalene, Middle Scalene, Pectoralis Minor, or Costoclavicular region. Upon performing these tests, we assess for the reproduction of symptoms, hypertonicity of the musculature, and the corresponding range of motion of the neck, mid-back, and 1st Rib.
In addition to these tests, postural assessments are important to determine if there is mechanical compression simply caused by the patient maintaining an excessive position that compresses the neurovascular bundle. For example, those who excessively round their shoulders and protrude their neck for long durations can result in irritation of the neurovascular bundle. Another example would be runners who can't control their breathing well and hike up their shoulders as they run. This results in tightness of the scalene musculature.
Occasionally, there may even be a congenital anomaly causing these symptoms due to a cervical rib. Treatment for this may be a resection of the rib to help with symptoms. This is not quite common and can only be determined by radiographs.
Treatments are easy and don't take long to see results. Most patients see a significant improvement in 1-2 visits.
Treatments typically include:
Chiropractic adjustments of the neck, thoracic spine, and 1st rib
Soft tissue work around the neck and chest (depending on the source of compression)
Dry needling (not in the front of the neck, don't worry!)
Static and PNF Stretching
Teaching proper breathing mechanics
Postural education
If you want to know more about Thoracic Outlet Syndrome or want to know how we can help, you can contact us at 727-228-3030 or schedule an appointment at strengthchiro.com

Dr. Caleb Hebert
Doctor of Chiropractic
Contact Me